News From Around the Digiplex Circuit
"A Miracle in Spanish Harlem"
Fan of the Week Super Sweepstakes

Three National Grand Prizes

First Grand Prize
IPAD Mini

Second Grand Prize
CLIPSCH IMAGE ONE Bluetooth Headphones

Third Grand Prize
CLIPSCH S3 IMAGE Earbuds (Five Winners)

First Prize
One Prize winner per theater.
Night at the Movies:
• Two movie tickets
• One large popcorn
• Two large fountain sodas

Enter now!
Tweeting isn't mandatory,
but you can get extra entries by Tweeting
about the sweepstakes daily.

Sign-up on your local Digiplex Theater Facebook page by computer or your mobile device.
---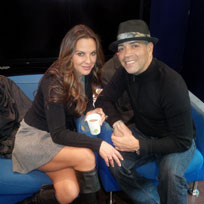 Kate del Castillo and Luis Antonio Ramos of "A Miracle in Spanish Harlem" stopped by NBC Studios in NYC for an interview with "Un Nuevo Dia" (The Today Show in Spanish).
---
A Miracle is coming to
Digiplex Destinations Theaters
on December 6…..
A Miracle in Spanish Harlem Debuts
Coming to Digiplex Destinations on
December 6...
(Kate Del Castillo is Eva and Fatima Ptacek (voice of Dora the Explorer) is Amanda in
A Miracle in Spanish Harlem
)
In the heart of this Christmas season, DigiNext is pleased to announce the release of its first feature length dramatic film,
A Miracle in Spanish Harlem
. It's a family-friendly movie about love, faith and redemption. The movie has a Latin flavor, but its subject matter is universal.
It features international TV star
Kate Del Castillo
(
Weeds, CSI: Miami, La Reina del Sur
) in her first major English speaking cinematic lead role. Daughter of Mexican cinema legend, Eric del Castillo, Kate is cast as the beautiful love interest of a young widower, Tito, played by
Luis Antonio Ramos
(Steven Spielberg's new series -
Lucky 7, Burn Notice, Nip/Tuck
).
Left to care for two young daughters – Amanda played by
Fatima Ptacek
(voice of
Dora the Explorer, The Rebound, Curfew, Body of Proof
) and Samantha played by
Brianna Gonzalez-Bonacci
(her cinema debut, Netflix's
Orange is the New Black
), Tito has struggled with the loss of a wife, the loss of hope and the loss of his faith. Blind to the devotion of his family, he is consumed by the pressures of caring for his children and trying to keep a failing business above water. Tito's growing bitterness about his bleak circumstances overshadows the best parts of his character and drive him to actions that will add disgrace to his woes (and a very public dressing-down by journalist
Geraldo Rivera
). Without a friend left on earth, nothing short of a miracle can relieve Tito's crushing and solitary burdens. However, miracles have been known to happen…